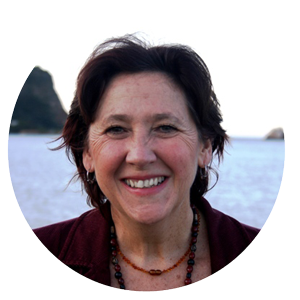 What a chequered career I have had and when I think back on it, I love the way it has all combined to bring me to exactly where I want to be right now.
As a child we traveled round quite a bit and I lived in different countries on different continents.  When I left school I wanted to be a teacher but then discovered the Theatre – so I wafted through my final year of 'varsity while hanging out and doing as much work as I could backstage in our local theatres. I joined the Artscape Opera Company and worked as a technician and assistant director for 7 years full time and then another 3 part-time. I thought I had learnt all there was to learn about ego until I joined the Advertising world. That took me into another league. I stuck that out for 2 years and finally with my back against the wall I called a meeting with the 2 people that meant more to me than anyone – my parents.
As a single mom of a 3 year old daughter I realised I faced quite a tough decision to leave the corporate jungle and the security of a monthly pay check and dive into the unknown world or Natural Therapy. But I was sure that staying where I was, was a slow death and not what I wanted for myself or my baby girl. I took the plunge, resigned and from doing 3 jobs to support myself landed up doing one and that with no guarantee. Ha! Talk about walking on the wild side.
And you know – it happened. I did the hard work, I met with the late night executive clients who flew into the country at 2.00 am, made friends with concierges at fancy hotels so I got work, and I studied. I did so many courses that I felt at times I was working just to pay off the next workshop. Not only was I a sponge for information, I joined a group of like minded people that supported my network. We held each other and referred to each other and my confidence and Therapy practice grew. Fifteen years later, I was ready for something new. So with my newlywed husband we bought a farm in the wilderness of the Baviaanskloof, and we moved to the mountains. This was definitely different and new. At times it was really hard and we both cried. And yet our dream of what we wanted and what believed was important kept pulling us forward. Slowly mud brick by mud brick we built our dream of an oasis in the wilderness, a Retreat Centre and Guesthouse where people could come and re-connect with themselves and nature. While we were dreaming and creating we also created a child. My story into fertility and the struggle to conceive launched me into a new career path and passion. We moved to Knysna to have our children and I re-opened my practice.
My passion and focus is to support women into feeling empowered and connected with their bodies. I love my work. I realise now that the puzzle pieces of my life have all combined to support me into a deeper compassion and understanding of the women I work with and provide me with deeper insights into how I can walk with them on their journey. Combined with the private practice I also run retreats, the latest of which is THE GATHERING co-facilitated with my husband Linden an Executive Flow coach and Bennie Naude, Master energy psychologist.
A quote that is above my desk pulls me forward every day – "I don't want to die with my music still in me"….. and right now there's a lot of music.
Jeanne is a qualified as a Fertility Coach, Massage, Aromatherapy, Reflexology, Cranio-Sacral Therapy, Energy Healing (including Flower Remedies, Reiki, Holistic Body Balance, and visualizations) and Advanced EFT, Matrix Reimprinting and Matrix Birth Reimprinting practitioner. She is a doula and works with pregnant women, women with fertility issues, and offers support for IVF and Assisted Reproductive Technology (ART). She is also currently writing a book about Conscious Conception and the Journey to empowered Fertility
To be having these sessions with you in my mid-fifties has been absolutely exhilarating. It is a rare gift, to be given a space, with someone so intuitive and of such exceptional emotional insight and empathy, to explore the cavernous and inaccessible parts of my psyche that I have neither the tools nor the courage to navigate through myself. Each session, in a unique way, takes me to long avoided territory (or, mostly, areas of myself of which I am unaware), and opens doors for light to enter.
Sometimes the result is gently joyous and affirming; and sometimes, it's a Pandora's box that has me doing battle with awkward and painful issues. You have the wonderful ability to judge the pace at which we can take things.  Your love and freedom from all judgement make it possible – and such a relief! – to explore areas of my being and of my life that I could not trust anyone else with. You surprise me, always, with the accuracy and depth of your understanding.
I find that something happens, almost effortlessly, as you guide me through territory that is strange and yet familiar.  And afterwards, without thinking about it, I realise that some aspect of me has changed, at a profound level.
With huge gratitude, and with love.
Debbie
I have just had one of the most beautiful private sessions with Jeanne.
I am amazed by how much she packed into the session, how many modalities and techniques she weaved and danced into it, how she met me where I was, and then led me to all sorts of new places!  Combining EFT, Matrix Reimprinting, metaphors, colours, parts, timelines and who knows what else into one session, without blinking an eye takes an expert – and that's exactly what she did.
It was uncanny how many connections she helped me make, how many patterns she helped me see, and how much of the recent personal work I've been doing over the last few months she was able to pull together.
This single experience is worth a lot more than whatever she charges.
Bennie Naude